---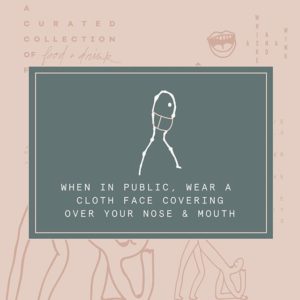 To enter Parlor, you must be wearing a face covering.
We appreciate your cooperation!
Staying Safe at Parlor
We can't wait to welcome you back to Parlor. It has been a challenging time for all of us, and we can't wait to see you all again and soak up all those #parlorvibes. To ensure the health and safety of our staff and guests, we have implemented changes based on guidelines from experts and the Centers for Disease Control. Please visit kcmo.gov or jacksongov.org for the latest guidelines and information.
COVID-19 Safety Measures
The changes at Parlor include, but are not limited to:
Staff wearing personal protection equipment, including masks
A new seating plan created using social distancing guidelines
Sanitizing stations for guests 
QR code menus for contactless ordering
Disposable silverware
Limiting occupancy to local regulations
Parlor installed a self-cleaning, bi-polar ionization generator to treat the indoor air quality in our space. The device purifies the air, killing mold, bacteria and viruses. It also reduces allergens and controls odor without creating ozone or any harmful byproducts. 
The device injects positive and negative ions into the air, which break down passing pollutants and gasses into oxygen, carbon dioxide, nitrogen and water vapor. When the ions come in contact with viruses, bacteria or mold, they decompose these pathogens, inhibiting their activity.
Cleanliness & Sterilization
Here's a few details on the new, state-of-the-art disinfecting program at Parlor. Each night, a professional team will clean the space.
Parlor will use a cleaning agent that's 99.9 percent effective against virtually all viral, bacterial and fungal infections.
The cleaning process may prohibit the growth of bacteria for up to 30 days.
The product is safe to touch and use in food preparation areas.
Management & Employees
Parlor will be screening staff for any signs of illness on a daily basis. We want to keep our employees safe and we want to keep you safe, too.
Parlor will keep a log of the daily screening data, which will take place before each team member's shift.
Signage, Physical Distancing & Policies
Guests will see signs throughout Parlor that remind everyone of the new health and safety measures. All of us must follow these guidelines for the health and safety of everyone.
By visiting Parlor, guests voluntarily assume all risks related to exposure to the virus that causes COVID-19. Senior citizens and those with underlying health conditions are especially vulnerable.
New Ordering Procedure
Diners can order takeout and delivery from our kitchens online »
When dining at Parlor, QR code menus will allow diners to order and pay for food from their mobile device.
Diners will pick up their orders from each kitchen.
Drinks will have to be ordered at the bar or from your cocktail server.