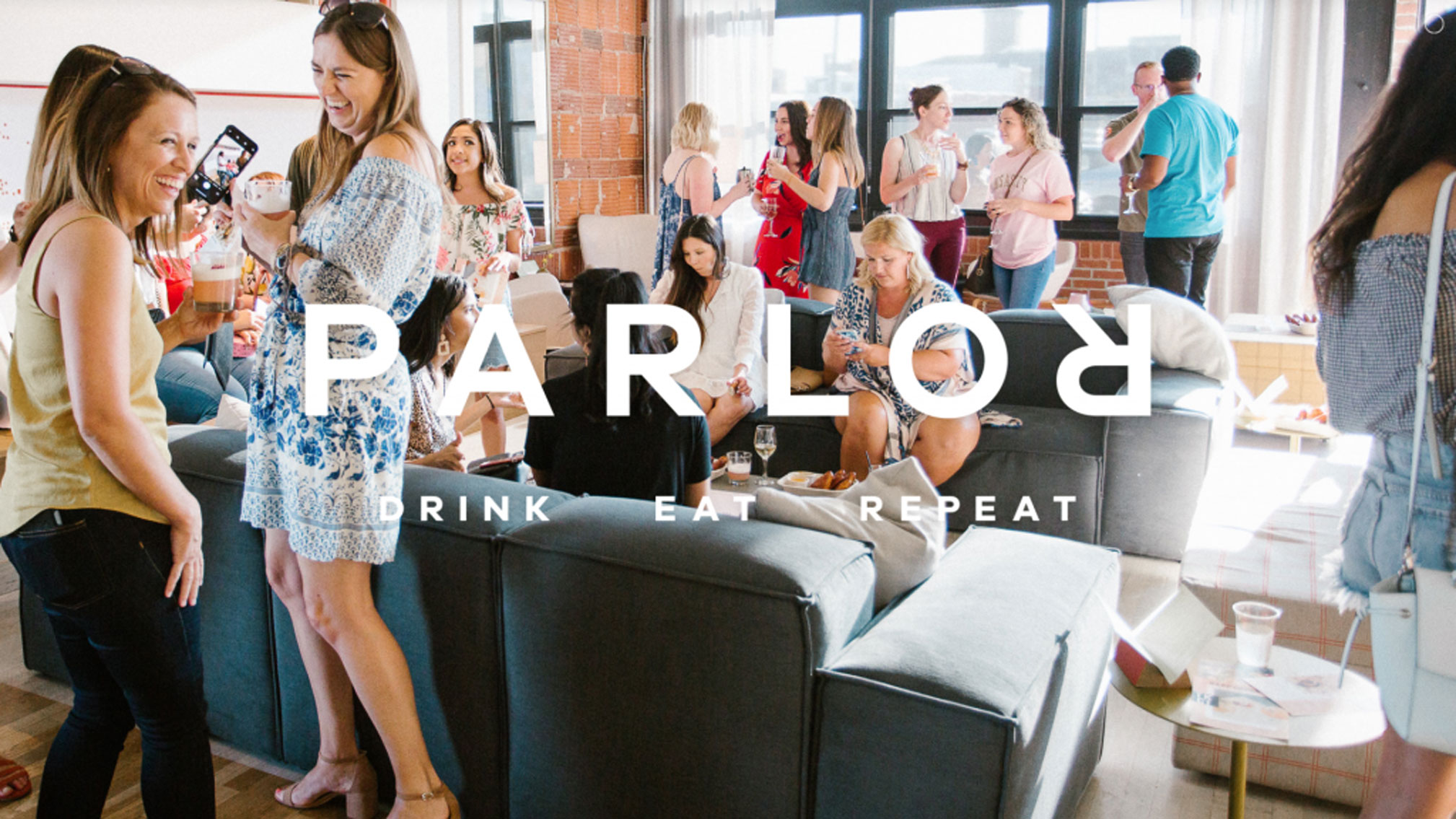 ACCOMMODATE
ALMOST ANY SIZE

INCREDIBLE
FOOD & DRINKS

BLANK CANVAS
FOR YOU TO FILL
3 SIMPLE STEPS
So you want to have a get together at Parlor? That is wonderful news!
Thank you for your interest – we can't wait to host your event. This page will help you plan your perfect party.
1. CHOOSE YOUR SPACE
You can book one space, a few spaces, a whole floor, or even buy out the whole building.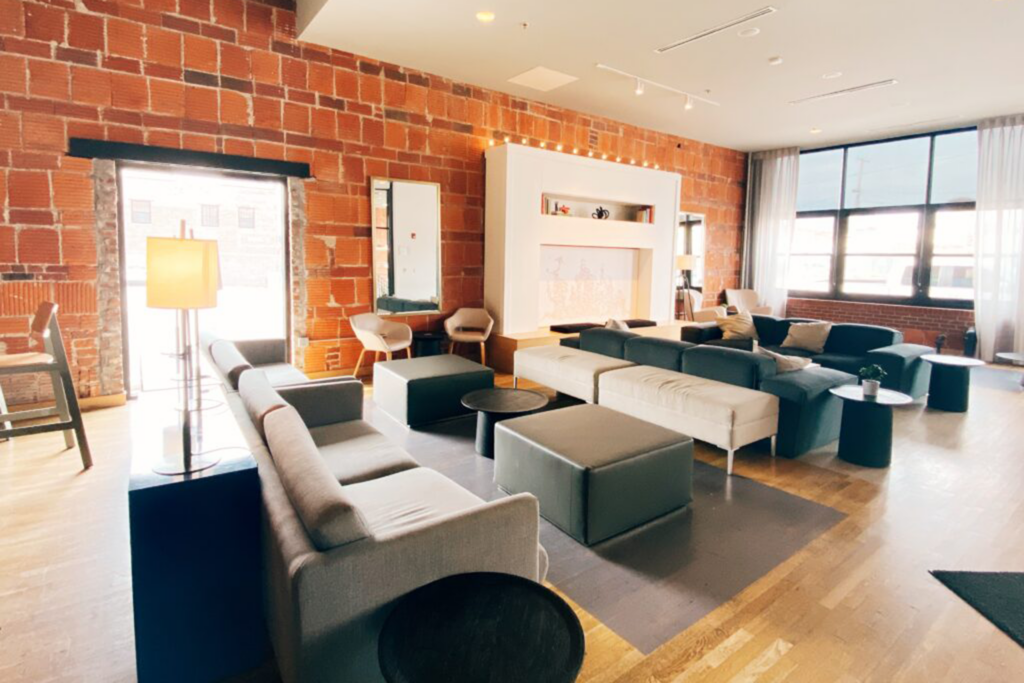 THE LIVING ROOM
We call it the Living Room because this is where the life of the party starts! Enjoy natural lighting for day parties or Live Entertainment during the weekends. Either way—there's always a great selfie opportunity to capture.
LOCATION: First Floor
SEATS: 30 | MINGLING: 50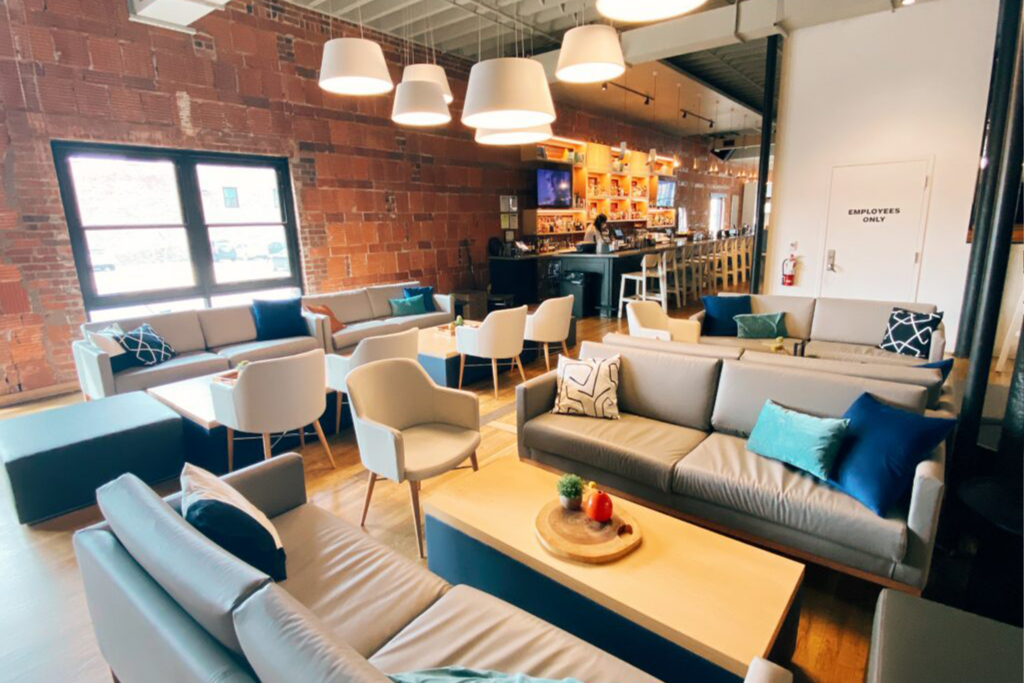 THE DEN
Dens have been known to be the ideal space for unwinding and indulging in the everyday activities that make a home a home. Our Den is the perfect space for hosting private, medium-sized parties.
LOCATION: First Floor
SEATS: 25 | MINGLING: 40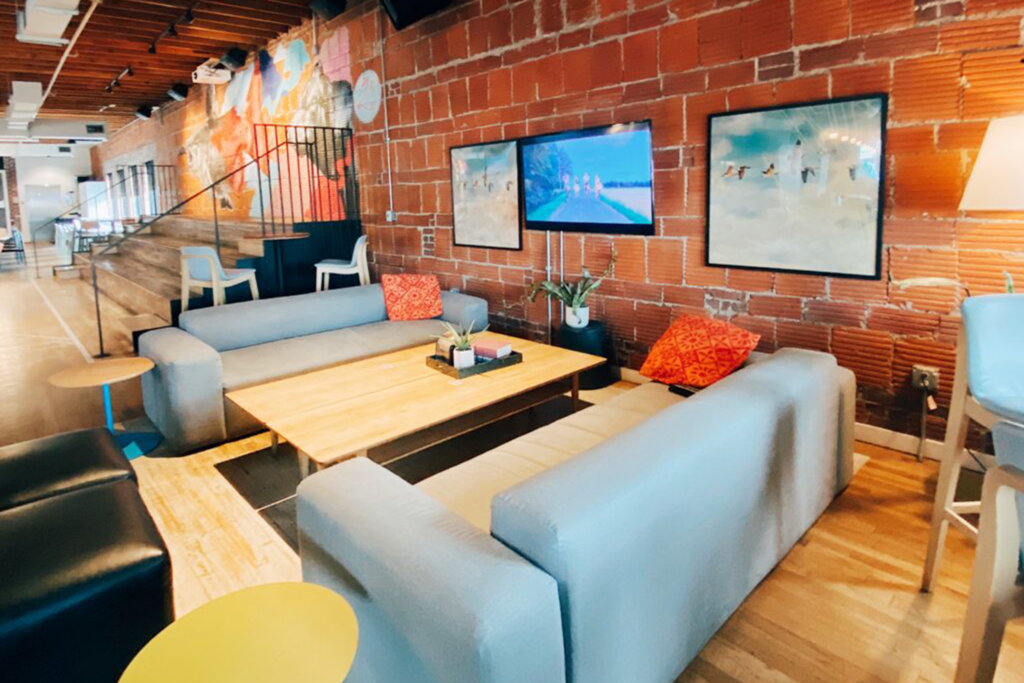 THE STUDY
Don't be fooled by the name; The Study is anything but boring. Our Study is located on our second floor and is our most intimate area, making it a great selection for smaller parties.
LOCATION: Second Floor
SEATS: 15 | MINGLING: 20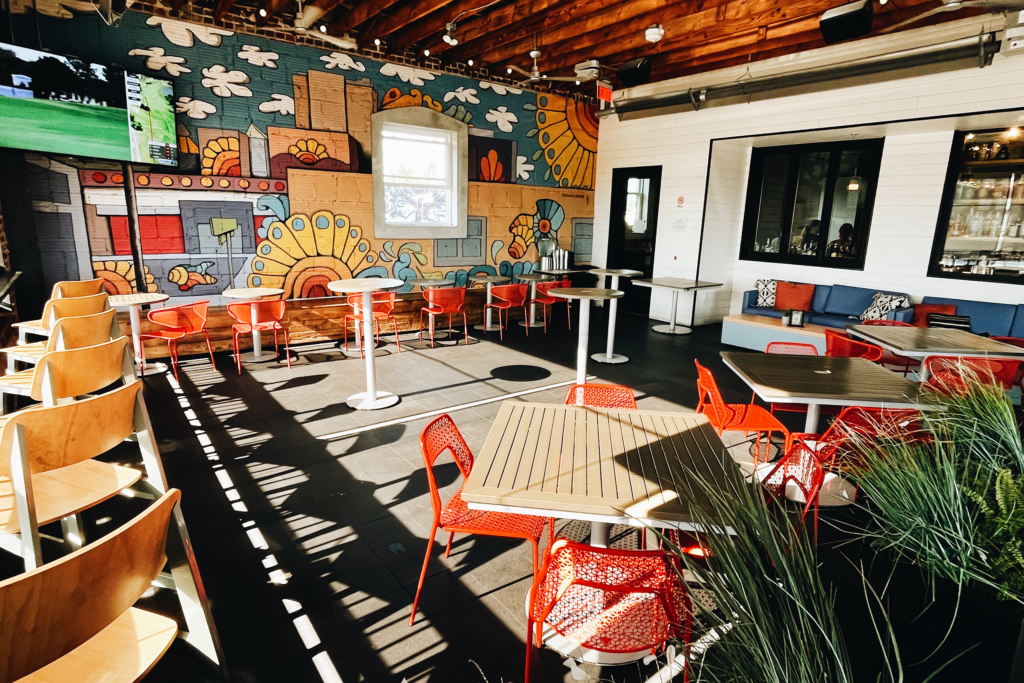 NORTH HALF OF PATIO
Rain or Shine, the party goes on! Enjoy some fresh air under our covered Patio and get an amazing view of Kansas City while you're at it.
LOCATION: Second Floor
SEATS: 40 | MINGLING: 55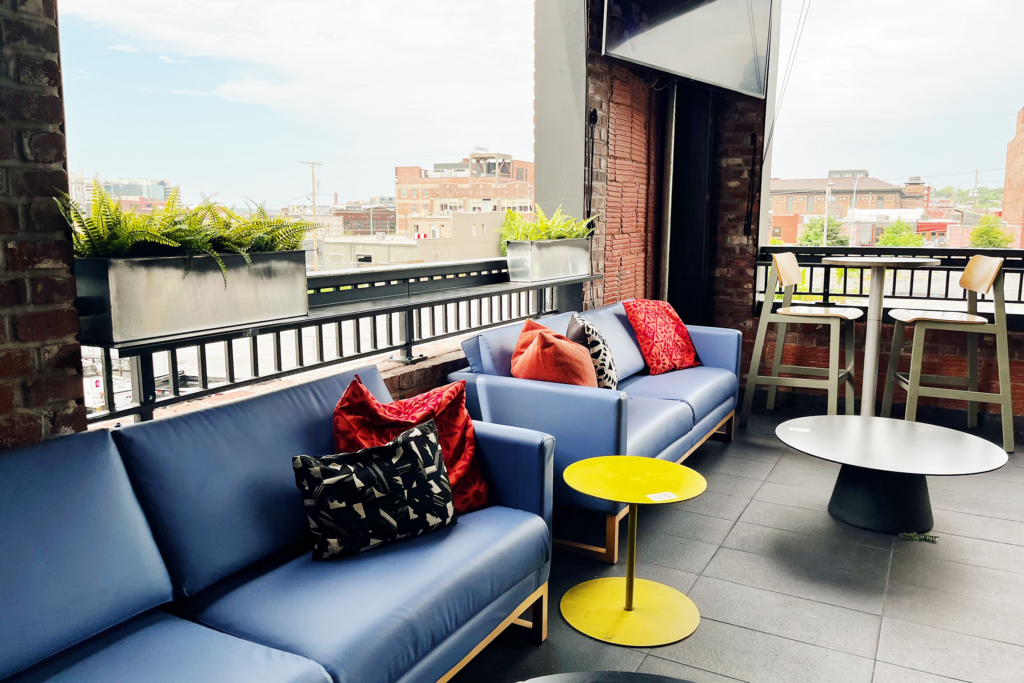 SOUTH HALF OF PATIO
Looking to sit back and relax? We got you! Enjoy our Patio Lounge with a drink in hand for a cozy day out. Who said unwinding could only happen at home?
LOCATION: Second Floor
SEATS: 30 | MINGLING: 45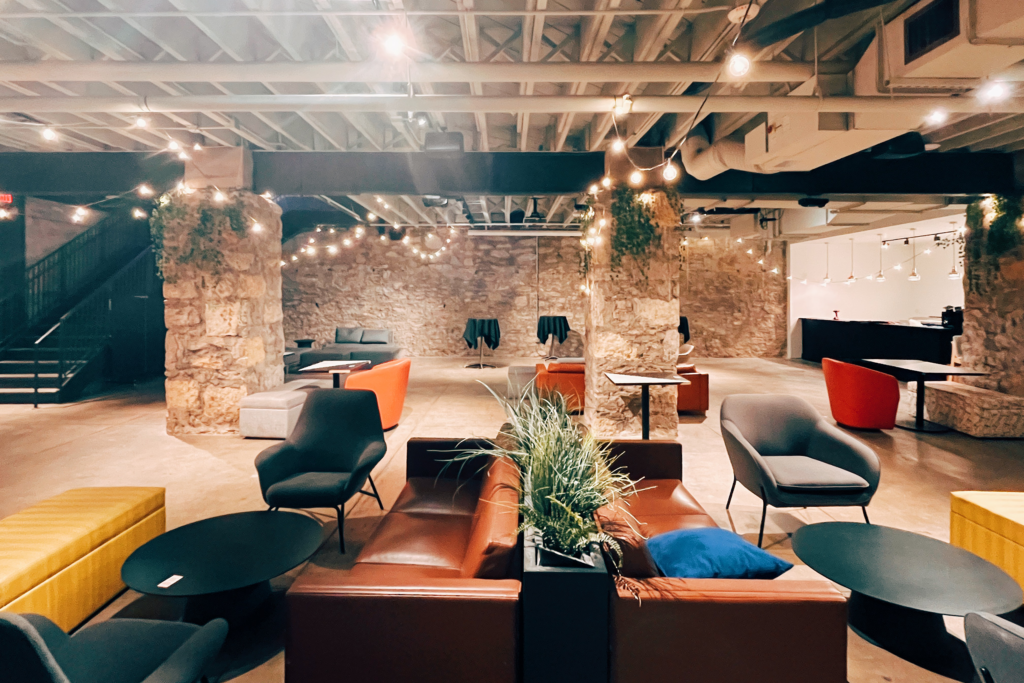 THE CELLAR
Let us host your next big event! Our Cellar is our most exclusive and versatile space. Whether it be a rehearsal dinner, concert, fundraiser, holiday, or birthday, our Cellar is ready for it! Choose between cocktail or banquet-style seating and the option to bring in a DJ or entertainment. Includes a private bar, private restrooms, AV equipment, projector, and more!
LOCATION: Basement
SEATS: 120 | MINGLING: 150
2. CONFIRM YOUR BEVERAGE MINIMUM
Parlor is open seating, but we'll reserve your space with a pre-determined beverage minimum.
We look at the number of guests coming to your event, the space you're booking, and the day of the week of your event.

You can choose between one tab for all your guests to charge their drinks to, or multiple individual tabs (like a cash bar) where everyone pays for their own drinks separately.

We're happy to create a beverage menu for your event with whatever drinks you would like to be available to your guests. Please keep in mind that offering non-premium liquor does not change the beverage minimum or your event cost in any way. The beverage minimum is a flat cost based on the number of guests in your party, and the type of alcohol served does not change that cost in any way.

Absolutely! If your event is on one tab and the event's subtotal is reached, we can close out the tab and convert to a cash bar where guests pay for their drinks on their own for the remainder of your event.
3. CHOOSE YOUR FOOD
You can choose from a few different options for how your guests can enjoy bites from our seven culinary concepts. Keep in mind that food is not included toward your drink minimum.
INDIVIDUAL TABS
Like a cash bar, but for food with self-service food on individual tabs. Your guests cover their own bites.
HOSTED TABS
You cover drinks and food. This is accomplished by pre-purchasing gift cards—one for each of your guests. The amount per card is up to you, but we recommend at least $20 per person. Your guests get to eat at the kitchen of their choice, and you get one check. Easy!
CATERED MEAL
You can pre-order your food and we'll set it up self-serve buffet style in your reserved area. You can even build a custom menu with food items from multiple Parlor kitchens. If you want a catered meal but aren't sure what to pre-order, your event coordinator can help you set up a menu!

FAQ
Most events only have a drink minimum. The only time an event minimum is applicable is when a host would like to make an area of Parlor completely exclusive to their invited guests. In that case, this minimum is determined by the number of estimated guests at an event, the day of the week, and the time of day.

No problem! Once you reach at least your drink minimum, you're good to go. If your guests are extra thirsty and your minimum is exceeded, you will simply be charged for the full tab (minimum plus extra drinks). If you, the host, don't want to pay more than the drink minimum, we can close your tab when the minimum is reached and convert your event into a cash bar after that.

No, food is not added to your event unless you request to add a food tab. Food tabs can be arranged by your event coordinator.

We have a 2 hour reservation minimum.

In order to book your event, we need a signed proposal and a credit card to have on file. A deposit is not required, but the card on file will be responsible for a small service fee. The card on file is responsible for catering (if your event is catered) and drink minimum difference if applicable.
CONTACT AN EVENT PLANNER
Ready to start planning your event? Have more questions? Contact our team to get started.
Izzy Vivas
Promo & Events Manager
E: ivivas@parlorkcmo.com